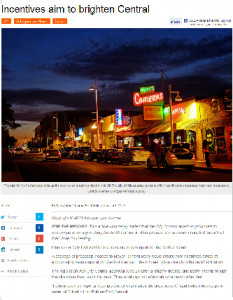 The City Council of Albuquerque recently approved a proposal to provide incentives to establishments that use neon signs. The incentives include a waiver on permit fees, which normally cost between $75 and $100 in the city. In a report by Dan McKay of the Albuquerque Journal, city mayor Richard Berry wants to see more neon signs at the longest intact stretch of Route 66 in the city. He wanted to attract more activity to the area and make it a bustling part of the Duke City.

Route 66 was a major thoroughfare stretching from Chicago, IL to Santa Monica, CA—a total of 2,448 miles. The demand for an Interstate system during the 1950s effectively killed Route 66 as a crucial artery, its segments bypassed by modern four-lane freeways. However, some parts of Route 66 are still alive, like the segment at Albuquerque (now known as Central Ave). What better way to stir up the hive than to hang neon signboards made by creative Tulsa sign companies?
Once the incentive proposal is signed into law, businesses along Central Ave can sport neon signs 25 to 50 percent bigger than the provisions in zoning guidelines. In addition, establishments in other parts of Albuquerque will also be allowed to have pole-mounted signs, which are prohibited as of this writing, but with a height limit. With the proposal, this section of Route 66 may just come to life with dozens of neon signs reliving the good old days.
As Route 66 was built as a major inter-regional artery, most of the establishments along the stretch are motels and lodgings for travelers. Hotels have been among the most common users of neon signs, attracting weary travelers with their bright letters amidst the darkness. Historical societies often go for neon signs to preserve the look and feel of historical buildings. Neon signs, after all, have been in use since 1912.
Tulsa may not have an incentive program for users of neon signs, but there's no denying the attractive power of bright advertising. Neon signs made by Tulsa sign companies like Crown Neon Signs can be seen from miles away, even in broad daylight. Whether or not your business is located along the remnants of Route 66, neon signs are effective in attracting your target market.