A FOX23.com feature describes the plight of a South Tulsa neighborhood. Due to a detour caused by a road widening project, motorists are forced to pass through said neighborhood with little knowledge of how to navigate through it. Residents of the area took the initiative to guide these lost drivers to keep them off their side of the street, as detailed by the article: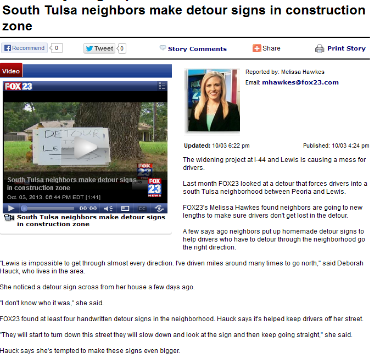 A few says [sic] ago neighbors put up homemade detour signs to help drivers who have to detour through the neighborhood go the right direction.
"Lewis is impossible to get through almost every direction. I've driven miles around many times to go north," said Deborah Hauck, who lives in the area.
She noticed a detour sign across from her house a few days ago.
"I don't know who it was," she said.
FOX23 found at least four handwritten detour signs in the neighborhood. Hauck says it's helped keep drivers off her street.
"They will start to turn down this street they will slow down and look at the sign and then keep going straight," she said.
Hauck says she's tempted to make these signs even bigger.
"Just go get some plywood and paint orange and black stripes so they don't miss it," she said.
Signage is most important when it comes to conveying traffic procedures and warnings. Companies looking to disseminate fair warnings or announcements to motorists should approach talented Tulsa sign companies like Crown Neon Signs to make highly-visible and legible signage.
Over the years, modern signage has improved by leaps and bounds in order to provide more visibility, variety, and versatility. Digital signage is all the rage nowadays, since it allows users to render a custom announcement or a highly-detailed graphic on an attention-grabbing screen. Unlike traditional billboards and the like, digital signage can be easily and instantly switched (even in real time) with a simple change of the depicted message or graphic onscreen.
An LED Tulsa sign would be perfect as a roadside signboard. Bright LED lights allow the sign to be used on even the darkest and stormiest of nights. Like with any digital signage, LED signs can also be updated on the fly to properly update motorists of any current changes.
(Info from South Tulsa neighbors make detour signs in construction zone, Fox23.com, October 3, 2013)