Neon signs have served local businesses for more than a century and are expected to maintain their role in local marketing for many more years. It's not that they serve a greater purpose compared to other traditional promotional tools; it's just that neon signs typically last longer than any of them. No wonder many hotels and diners across the country still have these curled lighting tubes on their roofs and doors to this day.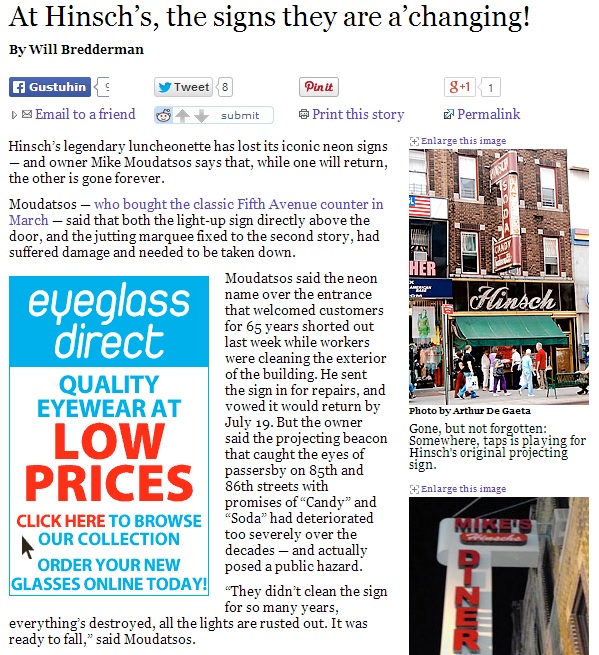 One of the outfits that has kept its neon signs for a lot longer than many seniors have stayed in downtown Brooklyn is the legendary luncheonette Hinsch. In an article for BrooklynDaily.com, new establishment owner Mike Moudastos tells writer Will Bredderman that the neon signs had been there for 65 years, but had shut down shortly after a cleanup job in the building. If not for a possible mishandling that caused the neon signs to short, both of the diner's signs could have lasted for a decade or two more.
"Moudatsos said the neon name over the entrance that welcomed customers for 65 years shorted out last week while workers were cleaning the exterior of the building. He sent the sign in for repairs, and vowed it would return by July 19.
"We're going to try to keep the place like it is, we're not going to go crazy," the Greek diner mogul said earlier this year. "The place has been here 60-plus years, and people like the place, the neighborhood wants it to stay the way it is."
Most business owners consider durability as among the most important properties of products that they consider company assets. Durability translates to savings as the need for repair or replacement is reduced. If you have a business in any bright cities like Tulsa, Oklahoma, choosing to light your business using neon signs is a cost-effective idea. These highly durable Tulsa signs can last up to five times longer than the average fluorescent light.
Additionally, using neon signs in Tulsa, OK is a great way to save on utility costs. This type of signage works by exciting gases to produce photons through a minimal amount of electricity. It helps even more if you choose to get your neon signs from reputable suppliers like Crown Neon Signs. If you're not ready to put up and maintain huge, sophisticated LED signs, installing neon signs to call attention to your business is an effective and cost-efficient stepping stone.
(Source: At Hinsch's, the signs they are a'changing!, BrooklynDaily.com)