Despite the popularity of online marketing, traditional marketing tools like signage will not die easily. In fact, a lot of signage designers and manufacturers in Tulsa are utilizing new technology to maintain the trust and interest of the commercial sector. Besides, small locally run businesses cannot rely on the Internet alone when promoting their products and services. Traditional marketing tools are still needed to establish the business' presence, and give it a foothold on the local market.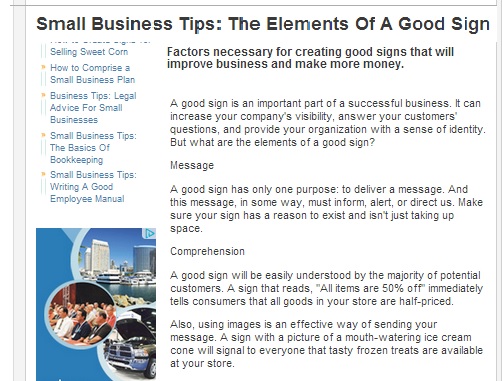 A good business sign will contain basic information about the business, or the products and services being offered. Putting those many pieces of information in a small signboard without skimping on quality remains a huge challenge for businesses and advertisers. An article for Essortment.com discusses some of the vital elements of an effective signage, and provides tips on how these elements can work successfully.
"Promotion
A good sign should, in some way, promote your business. Maybe it contains your company's name or logo. Or maybe it has your organization's address or phone number. But no matter how you choose to do it, you must use your sign to advertise your organization. It's important that customers can associate your sign with your business.
Speed
A good sign rapidly sends its message to consumers. Customers lack patience. They don't want to study a sign with lots of words or pictures. Therefore, use just enough text and images to effectively communicate your message, in the shortest time possible.
Attention
What good is a sign if no one sees it? A good sign should capture the attention of potential customers, but never eclipse everything around it. It manages to stand out, and at the same time, be a part of its surroundings."
Most conventional wood or vinyl signboards barely contain all the elements crucial in marketing. However, modern signs have managed to break these limitations with the coming of the LED technology. LED has allowed for better presentation of information, incorporating all the vital aspects of effective outdoor advertising, such as design, content, and accessibility.
For example, if the information you wish to convey cannot all fit in one signage, LED technology allows you to present all these vital info in several slides. Trusted Tulsa sign companies like Crown Neon Signs are now offering this type of sign.
Incorporating the latest technology, such as LED, into traditional marketing, is a plus for small companies for a number of reasons. One of LED signs' biggest advantages is that it eliminates the need to print and install new signs to advertise the latest offerings of a business. LED displays can show updates about the business, similar to how television programming works.
An LED Tulsa sign can therefore be an excellent tool to attract new customers, and to keep existing ones through constantly updated advertising.
(Source: Small Business Tips: The Elements Of A Good Sign, Essortment.com)