For years now, Cavis Grill in Port Huron, MI has been a pit stop for hungry motorists plying the city's busy highways. Its towering neon sign has served as a beacon that extends for miles, drawing many to the good old comfort food it serves. Today, however, the sign is beyond any hope of repair, and the current owners are planning to make some drastic changes, as Nicholas Grenke of the Times Herald reports.
"I think it's pretty obvious why it needs to come down," said Nick Cavis, second-generation owner of the Cavis Grill. "It's in a pretty rough state; the insides are rusted and it can't be repaired."
The neon sign has certainly seen more than its fair share of wear and tear since the restaurant's opening in 1960. Typical neon signs have a lifespan of at least 10 years, if they're left on for 24 hours every day. Cavis Grill isn't open 24 hours daily, which could be one of the reasons for the neon sign's extended lifespan.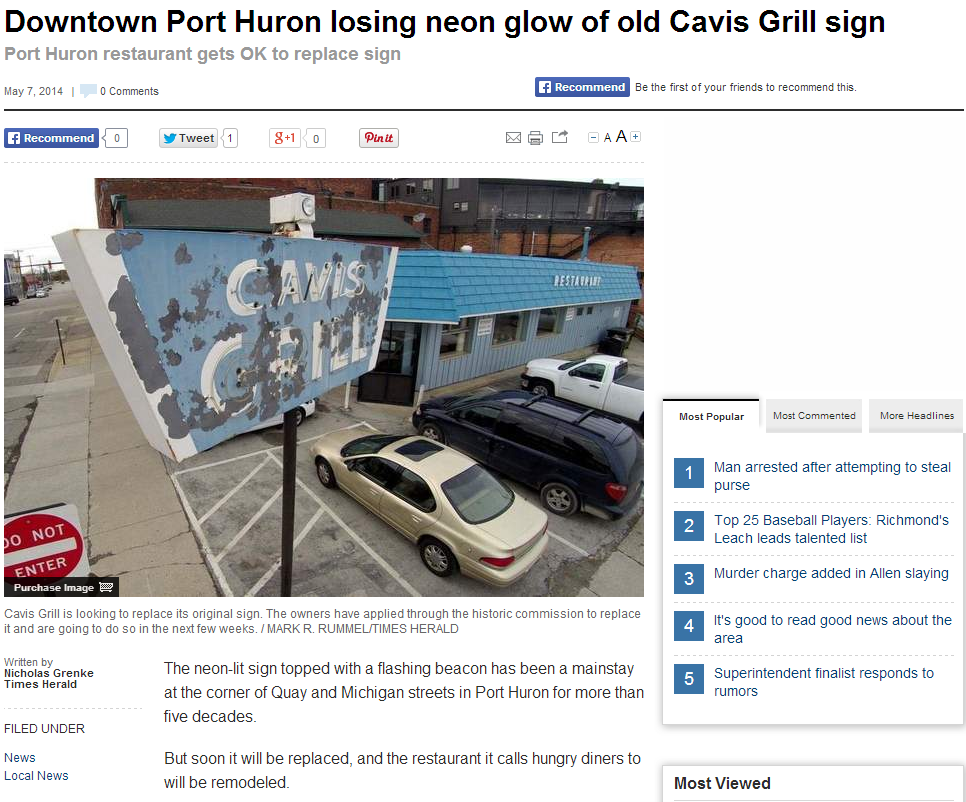 Neon signs are definitely a throwback to the old days before the coming of LED and digital signs. Many establishments, including restaurants, bars, and such inviting places in Tulsa, OK still make use of neon signs, especially for indoor use, because of the nostalgia they evoke. Neon signs have a charm or their own, and are generally more economical for smaller applications compared to LED signs.
Additionally, as the Cavis Grill sign has proven, neon signs can be highly durable and long lasting. At some point in time, those nostalgic neon signs in Tulsa will burn out; but repairs can be done. Here are some common problems plaguing neon signs and how they can be fixed.
Burned Sections
You will know that a sign has partly or fully burned out when it turns off by itself right after you turn it on, or if a segment is dimmer than the rest. The problem can be traced back either to the glass section or the transformer. A dark room test—lighting the sign inside a dark room—can help identify the segments that need replacement.
Half-Light, Half-Dark
When letters show both their bright and dark sides, there could be a problem with the neon content. As long as these signs are used outdoors, leaking neon won't pose an immediate threat to your health. However, the sign needs to be refilled with neon gas to be fully functioning again.
Reputable sign companies like Crown Neon Signs have the proper equipment and expertise to fix these memorable Tulsa signs. To make sure the lights serve you a long time, bring problems to the pros' attention instead of fixing them yourself.
(Source: Downtown Port Huron losing neon glow of old Cavis Grill sign, The Times Herald, May 7, 2014)